13-14 September 2012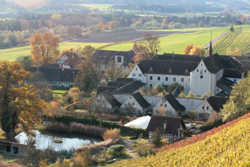 Venue: Karthause Ittingen near Frauenfeld
The Kartause Ittingen – a former Carthusian monastery, which looks back to more than 800 years of history – is one of the most important monuments of cultural heritage in Eastern Switzerland. After a complete renovation the Kartause has reopened in 1982 as a centre of cultural activity and a meeting place for people from all nations, cultures and religions. The trademark of today's Kartause is to build on its monastic past and to integrate those ethical values to the extent possible into the management of a modern seminar hotel. Associated with this idea is the fact that the Kartause is exploiting a big farm including cheese production and a vinery, is running a school for mentally handicapped people, and has on its ground the Museum of Fine Arts of the Canton of Thurgau as well as a museum on the history of the Kartause.
Kartause Ittingen is located in the Thur valley near Frauenfeld (43 km E of Zurich) and offers 68 fully equipped rooms including internet access. The restaurant 'Zur Mühle' (The Mill) serves very nice food, most of it locally produced. For more information please consult www.kartause.ch.

---
Access:
A public bus (2-4 services per hour) connects the railway station of Frauenfeld with Kartause Ittingen. Approximate travel times to Kartause Ittingen are as follows:
from Basel: 2h05
from Berne: 2h05
from Geneva: 3h45
from Lausanne: 3h20
from Zurich: 1h05
Those who have registered and have indicated the use of public transport will be contacted in July for travelling details (see also www.sbb.ch). For people travelling by car, a car park is available.
---
Accommodation and registration:
The block booking for the rooms was secured until 12 June. The rooms are attributed on a "first come first served" basis.
Sojourn:
one night/one day 283 CHF (1 night plus meals)
one night/two days 380 CHF (1 night plus meals)
two nights/two days 566 CHF (2 nights plus meals)
one day 97 CHF (lunch)
The prices quoted include:
accommodation including breakfast buffet;
meals (lunch, dinner [as applicable]) including mineral water, apple juice, soft drinks, coffee);
2 coffee breaks per day with coffee, tea, fruit juice, fruits, croissants, and cake;
mineral water, apples and sweets in the seminar room;
seminar fee including the technical material/installations.
free admittance to the two museums located on the premises (see above).
For arrivals on Wednesday evening please refer to the price list above. Earlier arrivals or extended stays for the week-end are possible (155 CHF per night). In such cases, an accompanying person (husband, wife, partner) will not be charged for his/her stay (except for meals).
Registration:
Please register here.

---
Agenda:
Please click here for the Agenda of the meeting

---
For any further information, please contact Jean-Pierre Ruder