29 June – 1 July 2015
Venue: Château de Bossey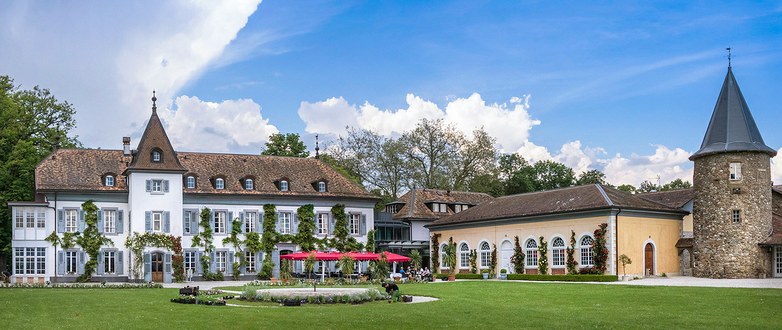 This year's plenary will take place in the Lake Geneva region. The Château de Bossey is a beautiful place at walking distance from the village of Céligny, near Geneva. It offers a large meeting room for the plenary, a wide garden with view on Lake Geneva and the Alps and various accommodation possibilities.
Since 1946, the Château de Bossey hosts the Ecumenical Institute, which is the international center for formation of the World Council of Churches. Open to the public, it is also one of the most attractive accommodation and conference centres in the region.
---
Programme
This year's programme is organised a bit like in Sursee in 2013, with invited speakers for all sessions covering the various scientific domains of CHIPP. Unlike in 2014 with the PhD/Postdoc days, it is not possible to submit abstracts for contributed talks or posters.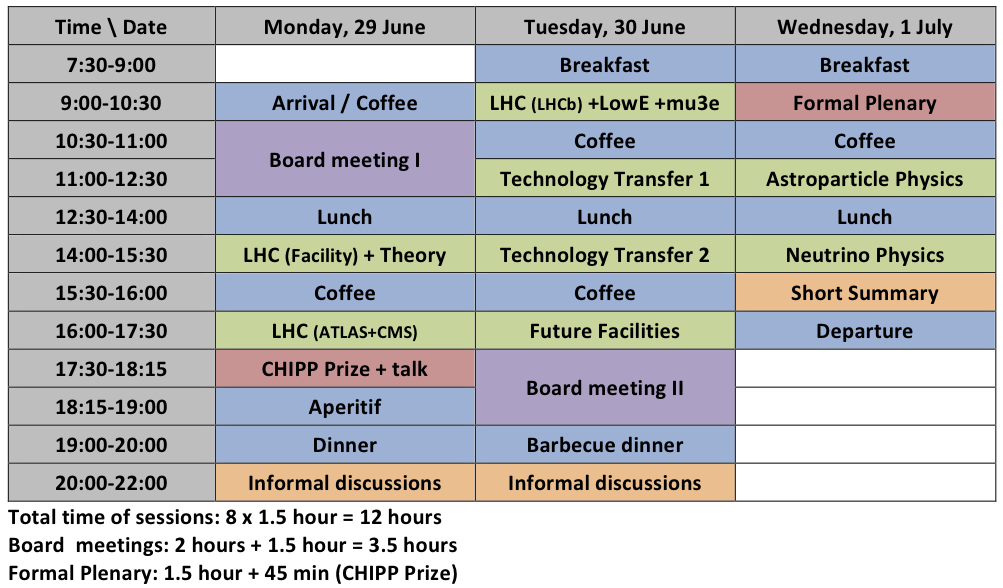 The table above presents the overall programme with the different sessions. The attribution of the individual talks is getting finalised on the Indico Timetable page.
---
Access
By car. For people traveling by car, please follow the instructions in the document with map and directions. An outside car park is available free of charge.
By train. From the main train station in Lausanne take a train to Nyon, which is the nearest train station to reach the Château de Bossey. From either Nyon or Coppet (if coming from Geneva), you can take bus 811 to reach "Céligny, village" (bus timetable). From there, you can walk 15-20 minutes to the venue either on a small road (lower route on the map below, if you roll a suitcase) or through a walking path (upper path on the map, if you have a rucksack). If you do not want to walk, there is the possibility to have a bus shuttle service from either the Coppet or the Nyon train stations (prize is 30 CHF for up to 8 persons). Please mention this at registration. Last minute need ? Please contact the reception (022 960 73 00) to order a shuttle or a taxi.
Approximate travel times by public transport are as follows:
| Train station | Nyon | Coppet | Céligny, village |
| --- | --- | --- | --- |
| Geneva | 0h15 | 0h10 | 0h30 |
| Lausanne | 0h30 | — | 0h45 |
| Bern | 1h40 | — | 2h05 |
| Zurich | 2h45 | — | 3h05 |
| Basel | 2h50 | — | 3h10 |
---
Accommodation
There are two types of rooms:
41 rooms with a private bathroom and a TV
37 rooms with a shared bathroom (one bathroom for four rooms, but with a wash-hand basin in each room)
Both types are available for either single or double use. All rooms have a phone and free WiFi. They are either located in the main building area (called "Colombie" or "Heaven") or in two annex buildings (called "Grange" and "Petit-Bossey") see the detailed map. Rates are the same for the two locations and are listed below.
---
Registration
Registration is mandatory for all participants and must be made via the Indico Registration page. Deadlines are 22 May 2015 for registration with room reservation, or 15 June 2015 for registration without accommodation. The rooms are attributed on a "first come first served" basis.
Sojourn:
Full 24-hour package

Includes 1 night with breakfast, seminar room rental, WiFi, water, 2 coffee breaks, 1 lunch, 1 dinner

229 CHF for a room with private bathroom, single occupancy
175 CHF for a room with private bathroom, double occupancy
179 CHF for a room with shared bathroom, single occupancy
151 CHF for a room with shared bathroom, double occupancy

One-day fee

Includes seminar room rental, WiFi, water, 2 coffee breaks, 1 lunch

57 CHF without dinner
93 CHF with dinner

Half-day fee (morning or afternoon)

Includes seminar room rental, WiFi, water, 1 coffee break

22 CHF without meal
42 CHF with lunch
57 CHF with dinner

Note that the Wednesday afternoon was negotiated to be for free as there is no coffee break anymore and we finish earlier.
Arrival the night before is possible.
Payment:
The Château de Bossey will bill each participant individually according to the above rates. Beverages consumed during meals will be charged additionally. Payment is to be made on site. Credit cards are accepted.
---
For any further information, please contact Marc Türler <turler[at]physik.uzh.ch>